If you ask urban citizens of Helsinki, Finland where they would most like to live, they'd most likely describe small-town scenery with low-rise buildings, parks, a seafront with their boats moored within walking distance from home – and all of that in the commercial and cultural centre of an international city. Not a tall order, then.
With these wishes in mind, the planners in Helsinki designed a new housing area in a former fishing port close to the city centre. To help realise this grand vision KFS Finland Oy used Mincon geotechnical solutions to build the foundations and seawalls that helped make this all come true in Verkkosaari-island, which forms part of the Fisherman's Port housing project. Finnish company GRK was the main contractor for developing and shaping the infrastructure, and worked with KFS Finland Oy to build a 600-metre-long, complex-shaped interlocked-casing wall to act as a seawall.

Upon completion of this project, the northern shoreline of Verkkosaari-island was transformed into a vibrant metropolitan area with a population of more than 3,600 residents who get to enjoy modern luxury housing along the shore, as well as access to a shopping area, kindergarten, leisure boat harbor, and parks that will keep the area green and inviting.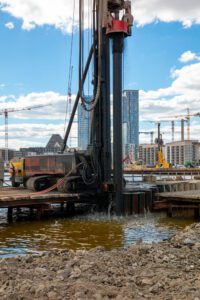 KFS Finland Oy drilled approximately 900 holes to install 610mm-diameter casings as an interlocked pipe-pile wall. Drilling depths varied from 10 metres to 30 metres, with all piles are drilled roughly two metres into the bedrock. Drilling was done partly over water from trestle platforms and partly on, as well as through, reclaimed land. All drilling was completed using two drill rigs, working in four-day shifts per week. Teams of up to three people manned each rig, to weld and splicing casings as drilling progressed.
Mincon worked with KFS Finland to establish requirements for this project and supplied all drilling and casing-advancement consumables. This included Mincon's high-frequency MP180-MQ DTH hammer, which supports the N180 drill shank with no foot-valve. The high-frequency stroke of the hammer is well suited for drilling interlocked casings which always sees additional friction in the connectors – a factor that can play a major role in performance when drilling 900 holes.
Thanks to the efficiency and performance of the Mincon solution, the team at KFS Finland was able to successfully conclude all drilling – more than 15,000 metres of it – in just six months, two months ahead of schedule. Although installation of interlocked pipe-pile walls is technically challenging, KFS Finland was able to complete all drilling without any difficulties thanks to excellent planning, valuable experience, and the reliability of Mincon's DTH products.
Excellent productivity, ease of use, and a perfect result – exactly what professionals have come to expect of The Driller's Choice.