Scandinavia has long been acknowledged as being at the forefront of Ground-Source Heat Pump technology and the development of the most efficient installation techniques.
There are currently in excess of 315,000 installations in Scandinavia and the experience and expertise gained during their completion is now being utilised in many other, energy conscious, countries around the world.
Alongside the necessary expertise, the selection and use of the best available equipment is also vital to any efficient drilling operation.
Mincon have been working with many of the drilling contractors in Scandinavia, particularly in Sweden, to develop a DTH hammer to give optimum performance in some extremely challenging drilling conditions.
This has proved invaluable in the development of the Mincon range of Deep Hole Hammers, which have proved to be extremely reliable in use, giving excellent penetration rates and having an ability to operate more efficiently under a head of water.
These characteristics have resulted in the Mincon hammers becoming the predominant choice of the majority of drillers in Sweden who are involved in the installation of geothermal systems.
The 'Drilling for Energy' industry in Sweden is, as in other areas, carried out by contractors ranging from the 'One Man- One Rig' concept to larger concerns operating several modern rigs and offering the full package of Drilling/Casing, Installation of pumps and pipe-work, and the Commissioning of the system.
Techniques were first developed during the drilling /installation of systems for the heating of domestic properties but more recently Heat Pumps have been successfully used for the heating/cooling of large industrial premises, in both vertical and horizontal format.
Projects are all designed on an individual basis.  Detailed costings are carried out to prove the required energy savings against the capital cost of installation and operating costs. The substantial increases in the cost of carbon based fuels such as oil and gas continues to make potential savings from Ground Sourced Energy an attractive proposition.  Environmental considerations are also a strong argument in favour of this type of energy use but they are more difficult to convert for   the balance sheet.
One of the major drilling contractors in Sweden is Finspångs Brunnsborrning .  An active member of Geotec , the association for the drilling contractors involved in Well and Geothermal drilling in Sweden, Finspångs Brunnsborrning currently operates a fleet of modern high pressure drilling machines, truck mounted compressors and support /service vehicles specifically designed for Well drilling and Heat Pump installations. The company is a recognised specialist in this field, which forms up to 90% of the company's activities.  Drilling capability averages 35 holes per week to varying depths and formations.
Mincon are justifiably proud to be part of Finspångs Brunnborrning's success.
No two drilling contracts are the same.  In this sector drillers can, and do, encounter widely differing drilling conditions even within a tightly spaced grid.
It is for this reason that there cannot be one typical example of works completed but some examples of drilling for Heat Pump Installations carried out by Finspångs Brunnborrning in Sweden using Mincon hammers are detailed below.
Contract 1
Karlstad, Sweden
This project involved the formation of an non-uniform grid of 101 x 140mm (5.5") diameter boreholes to a total depth of 120 metres (394 feet) in Swedish Granite. The drilling and installation had to be completed and operational within 10 weeks in order to comply with the main contractor's timetable.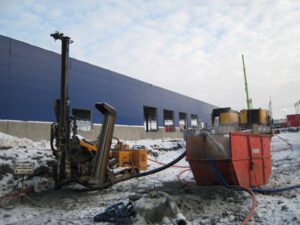 Three Nemek 407drilling rigs were used, all equipped with Mincon 5" Deep-Hole hammers, and three 466 compressors to enable drilling at 25 Bar (363 PSI) with a maximum of 455 L/Min (965 CFM).  With a total of over 12,000m to be drilled a minimum of 800m per rig per week was required.
The first 3m of each borehole was cased using 168.3mm (6 5/8") casing to secure the borehole against 'top-breakage'.
In parts of the grid where boreholes had to be positioned close together the use of Mincon drop centre drill bits helped in reducing hole deviation, which could have resulted in drilling into a previously completed borehole, thereby making both holes un-useable.
Penetration rates using the Mincon 5" Deep-Hole hammer were in excess of 30m per hour throughout the contract and the hammer design ensured that the progress made at full depth and under a considerable head of water remained impressive.
Water was present in boreholes at between 30m and 48m depth and at this point the formation became more fractured and remained so down to the 120m final depth. This called for extra care to be taken to avoid the borehole deviation mentioned previously.
Water volumes were generally between 500 L/min (132 US Gal/Min) and 1550 L/min (408 US Gal/Min) and only two boreholes were reported as "Dry".
The drilling element of the contract was completed on time as was the installation and commissioning.
The system is now producing 85% of the requirement for heating in the development and 75% of the required cooling levels. The remainder being provided by water and wind generation.
Energy consumption has been reduced by an expected 76% each year with a resultant reduction in Carbon Dioxide emissions amounting to 2200 Tonnes per year.
Contract 2
Uppsala  Sweden.
This Ground Source Heat pump installation in Uppsala involved drilling in a similar rock formation to that at Karlstad, although fracturing of rock was more severe and did not become evident until a depth of between 70m (230 feet) and 90m (295 feet) was reached.
The contract called for a total of 100 boreholes with a final depth of 168m (551 feet).
Finspångs Brunnsborrning and Berg & Grundvatten Entrepedad deployed four drilling machines on this site all equipped with Mincon 5" Deep Hole hammers and 140mm (5.5") drill bits.
Casing was inserted to varying depths between 12m (39 feet) and 34m (111 feet) to give the required borehole stability.
Average penetration rate across the 100 boreholes was 25m (82 feet) per hour.  Water volume was between 1500 L/min (395 US Gal/Min ) and 2000 L/min (526 US Gal/Min ) from 40m (131 feet) depth.
The project was completed on time and energy extracted amounted to 1247 Kw on heating and 1157 Kw in cooling mode.
We would like to take this opportunity to thank the people of Finspångs Brunnsborrning and Berg & Grundvatten Entrepedad for their time with this case study and also for their continued business.  It is greatly appreciated.