Mincon's state of the art Drill Rig Rebuild Centre is based in the vibrant area of Vancouver, British Columbia, Canada. Focused heavily on the underground mining sector we are ideally placed both for the North American Mining Sector, and with excellent logistics facilities in Vancouver can offer an excellent service to our remaining customers around the world. The Rebuild Centre transforms used underground jumbos and surface drills to as new factory condition at a fraction of the price of a new drill machine.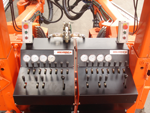 All rebuilt drill rigs have the option of having our Mincon Wolverine 4000 Control panel and Hydraulic system fitted. This allows a huge amount of flexibility to the operator as it allows for the operation of any manufacturers Hydraulic Drills. These can be fitted and run at the OEM pressure settings due to the Mincon upgraded power packs which can be set to various operating pressures at the turn of a selector switch. Since its introduction the Wolverine system has been proven to be superior to OEM systems.
In addition to the Drill Rig Rebuild Centre the Vancouver Facility is equipped with a state of the art Top Hammer Rebuild and Test Facility. This facility is set up to work on any manufacturers hammers. The hammers will be rebuilt to OEM specifications and tested on site before being returned to the contractor.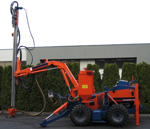 Mincon also carries a full range of new Tamrock style Mincon manufactured hydraulic rockdrills HL510, HL560, HLX5, MR40 (HE322) and L550 pneumatic drill.  We also have stocks of complete Hyrdrastar 200 rockdrills manufactured by Mincon and spare parts for Hyrdrastar 300 rockdrills also manufactured by Mincon and a wide range of of replacement parts for QL COP 1238 and COP1838 rockdrills.
A full range of cable feeds to suit Tamrock and Secoma Jumbos is also available, manufactured to suit various drill rod lengths. Mincon also manufactures complete replacement Tamrock KS140 and CF145 feed assemblies.
Mincon Mining Equipment is also responsible for the promotion of the other Mincon Group products for the Canadian Market. For those of you just getting to know us, we welcome you and hope you will come to understand why we are recognized globally as "Leaders in Rock Drilling Technology".