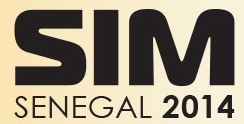 Mincon West Africa are pleased to announce that they will be silver sponsors and exhibitors at SIM Senegal which takes place take place from 4 – 6 November 2014 at the Hotel King Fahd Palace, Dakar, Senegal.
The event is organised by the Ministry of Industry & Mines, Senegal in association with AME Trade Ltd. The event will feature a three day conference, exhibition and option to visit some of Senegal's key mining sites.
SIM Senegal 2014 will build on the success of its previous events, as the estimated $USD 5billion invested in the Senegal mining industry from 2000-2013 directly correlates to 20% of Senegal's export revenues coming from its rapidly growing mining sector.
Mincon have been supporters of previous SIM Senegal events and look forward to meeting some new contacts as well as reacquainting ourselves with old ones. The event is a must attend for all those involved in the mining industry and a great place to network and build new business contacts and learn about the latest developments in mining equipment and technology.
We look forward to seeing you there.
To learn more about SIM Senegal please visit their dedicated website here.