In 2006 Mincon Rockdrills set about developing and manufacturing a new design of reverse circulation DTH hammer.Mincon personnel have a wealth of knowledge and experience in reverse circulation hammer design and manufacture.  Mincon has been involved since the acceptance of reverse circulation drilling as an advancement over cross-over sub systems and an alternative the more expensive diamond coring.  Bringing this experience to the MX line of hammers produced a design that is second to none in performance, reliability and sample quality.
The Mincon MX Range of RC hammers are high performance geological sampling tools that provide trouble free operation in all kinds of demanding conditions. With a dedicated manufacturing plant equipped with state of the art equipment in Perth Australia, Mincon are located in the heart of RC hammer development worldwide.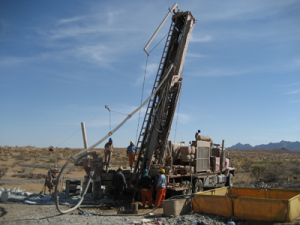 The innovative design of the MX range of RC hammers is centred on the patented drill bit retention system.  The system offers a number of distinct advantages.  The system does not use the traditional bit retaining ring that is secured above the chuck (drive sub).  Instead retaining pins are employed to secure the bit, providing complete support for the bit shank within the chuck. This allows for an extremely robust shank design greatly minimizing the potential of drill bit shanking.
Some of the other unique features of the MX range of RC Hammers and Bits are:-
Patented design provides excellent sampling in the most difficult conditions. Mincon MX RC hammers work equally well in unconsolidated and hard ground.
Patented design allows the hammers to perform extremely well when the driller encounters a lot of water in the borehole. Unique features of the MX RC hammers allow these hammers to keep drilling when others will not.
Unique bit design eliminates the need to stock costly bit shrouds. MX range RC bits have an integrated seal behind the bit head.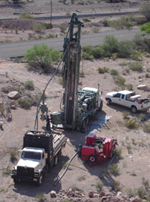 Superior performance results when drilling with or without high pressure boosters.
Patented internal mount system gives positive make up and eliminates the need for wear shims or special assembly tools. The system secures the top end of the hammer rigidly in place providing very smooth drilling coupled with excellent internal tool life.
Unique design and airflow, coupled with excellent heat treatment ensures that the internal sample tube life exceeds other manufacturers. This provides less down time for servicing hammers to change the sample tube.