An interview with Mr. Neill Pardue of Air Drilling Company, Statesville, North Carolina by Tom Purcell of Mincon, Inc.
Founded in 1966 by the late Mr. Wilson Martin, Air Drilling Company has over a period of nearly forty years built a reputation as a company that you call when you have a hard job that requires true professionals. Through their two companies, Air Drilling Company and Geologic Exploration, they cater for both the commercial and residential water well industries and also to the environmental and geotechnical industries.
"We run Driltech D25 rigs with 1000 cfm x 350psi and we have been extremely happy with the Mincon range of products since starting to use them on our machines", said Neill Pardue.
"Of all of the Mincon Hammers that we run, we are most impressed with the Mincon 8DH. Unlike smaller contractors, we do a lot of commercial 8″ wells for city and county authorities. Most of these jobs tend to be to a contracted depth of between 800 and 1000 feet, to get as much water as you can", said Pardue.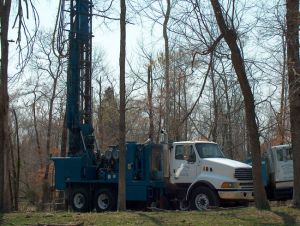 "When we used other brands of Hammer, the traditional manner that we had to follow to drill the wells, was to open up the hole to 12″ and set in 8″ casing to rock. We would then drill with a 6″ Hammer until we reached the contracted depth but most times we would run into so much water that it would flood out the 6″ Hammer before we got there. This would usually happen when we reached 150 gallons per minute or more in the well. We would then have to trip the hole and put on our 8″ Hammer with a 7 7/8″ bit. We would then ream the hole to either contracted depth, or to the point where there was so much water in the hole that it would eventually flood the 8″ Hammer out. This unfortunately, was a common occurrence and costly too. If the well had to be drilled deeper then we would have to bring in a second rig and run two compressors in line. We would also have to open the choke in the Hammer to enable us to finish the well to the contracted depth", said Pardue.
"Since running the Mincon 8DH we have eliminated a lot of this and the need to bring in a second rig on jobs where we get a lot of water in the hole. This of course has provided significant savings for us as the cost of these jobs doubles when you have to bring in that second machine. And of course there is the additional problem of not having that machine available to do other work so we then suffer lost revenue".
"As an example we did a job for the city of Statesville. The job called for a contract depth of 600 feet and – get as much water as you can! At around 500 feet we hit approximately 200 gpm and pulled out our 6″ Hammer. The Mincon 8DH averaged about 2 foot a minute while reaming the hole to 500 feet. We had to play with the Hammer some but got it below the vein and took the well to 600 feet with just the one machine! We did a 24 hour pump test on the well and it was regularly producing 400 gpm", Said Pardue, with satisfaction.
"The Mincon 8DH has been a great Hammer for us. It is certainly more productive than other 8″ Hammers that we have used in the past and has given us a much lower cost per foot. In this game that is the key", said Pardue.
Mincon, Inc. would like to thank Mr. Neill Pardue of Air Drilling Company, Statesville North Carolina for the interview, who like other professionals in our industry have turned towards the Mincon for better results.