Mincon is involved in the design and manufacture of rock drilling equipment for almost 40 years.  The company's range of DTH hammers and bits is supplied into many different drilling applications.
The increased scope of the Mincon range of products and the market demand for the company's range of products has generated significant production challenges which the company has met and over the past twelve months has embarked on an ambitious expansion and refurbishment programme.
Due to this continuous success of its products and expansion into new markets the company has added an additional 2,322 Square Metres (25,000 Square Feet) to its manufacturing facility at its headquarters in Shannon.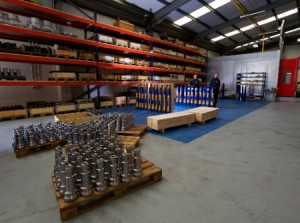 As part of this expansion the company has invested nearly €3 million and has totally refurbished the office and administration blocks and upgraded its I.T. systems.   These new facilities will significantly increase manufacturing capacity and ensure that the company continues to be totally customer focused and will allow Mincon to stay at the forefront of quality hammer and bit manufacturing.