More than 1,200 years ago, prehistoric Dublin was home to Viking settlers for whom the Irish capital was a vibrant port city. Kingdoms were conquered, lives were lived, and history was made – but it wasn't until relatively recently that researchers first got a glimpse of Ireland's past.
In the early 1960s, excavations in Dublin unveiled extensive Viking remains that providing clues to the traditions and technology of ancient Ireland's inhabitants. Since then, many construction projects in Dublin have been conducted in cooperation with archaeologists to ensure findings and artefacts are recorded, catalogued and preserved for future generations. As a result, construction crews are also required to take extreme care when excavating and drilling, to avoid disruptions in sensitive ground conditions – which is exactly what Mincon's Spiral Flush drill bits were designed for.
Spiral Flush is a patented technology employed in Mincon Spiral Flush drill bits, which are used in geotechnical applications. The unique design on the face of a Spiral Flush bit forces cycled air back through the casing – rather than allowing it to escape into the ground. By containing this airflow and correctly channeling it, disruption of rock strata and any adjacent foundations is avoided.
One site where Mincon Spiral Flush recently proved its value is at the site of the former Parliament Hotel on Lord Edward Street, in Dublin's Temple Bar district. Dublin-based geotechnical contractor PJ Edwards & Co Ltd consulted with Mincon to source and use Spiral Flush technology at the Parliament Hotel site, which is being redeveloped on grounds that have been deemed to have archaeological significance.
Greg Edwards, Managing Director, PJ Edwards & Co, said:
"This is a micro-piling project in an urban environment with sensitive ground conditions – and we need to drill 72, eight-metre-deep holes. It's a cramped worksite, but a massive undertaking that has several risks and restrictions, given the location. We needed a solution that would keep the ground stable and cause minimal disruption to the architecture and people in the area, which is exactly what this Mincon solution has helped achieve."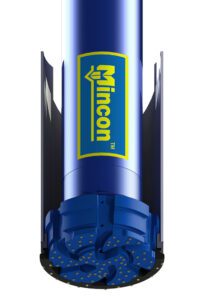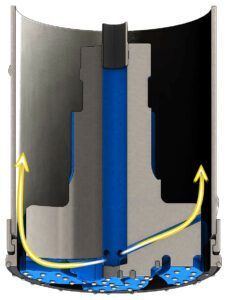 To drive the 12¾-inch Spiral Flush drill bit, PJ Edwards & Co used a Mincon MP100 hammer. This, too, had a part in keeping disruption to a minimum. The MP100 has an operating frequency that is substantially higher than the nominal frequencies of terrain (four to six hertz) and buildings (five to seven hertz). These higher frequency vibrations do not travel as far as low frequency vibrations, thus mitigating damage in nearby buildings – making this an essential tool for drilling in old urban conditions.
Thanks to this and its percussion energy-transfer characteristics, the MP100 hammer also generated less noise during drilling – another important aspect for urban projects. This inherent efficiency of the percussion cycle results in high rates of penetration and low air consumption, which ultimately benefits fuel efficiency.
Flan Downes of Mincon International and Jukka Ahonen, Marketing Director for the Mincon Geotechnical Centre in Finland, were on site to provide expert consulting and support for this intricate project. Ahonen has extensive experience in urban piling projects and has pioneered a number of techniques for drilling in complex ground conditions.
Ahonen said:
"This project in Dublin is a good example of DTH being successfully used for piling in an urban environment. Our high-frequency hammer and the air-control casing-advancing system are a perfect pair, proving to be productive and environmentally safe. This patented system allows for excellent air control in sensitive ground conditions. This is increasingly becoming the number one concern for drilling operations in highly developed urban areas around the world."
Edwards said:
"We genuinely appreciated having the Mincon experts on site to provide advice and prompt service. We look forward to using Spiral Flush and new Mincon solutions for our future products. The benefits of minimizing disruption in the ground opens up new possibilities in piling."
Mincon DTH hammers and Spiral Flush drill bits are available through Mincon customer service centres and distributors, worldwide. Contact your country representative to get further information on these, and other Mincon hard-rock drilling solutions that can help your business achieve faster results, with increased efficiency.