Despite tough market conditions in the exploration drilling industry, Mincon is expanding its presence in the Australian market. As part of this expansion Mincon have appointed a new Sales representative, Jason Hudson, who will be based in Brisbane and responsible for developing sales in the East coast of Australia.
Jason has many years of experience selling drilling consumables to the Australian drilling industry and has had a strong background in the supply and service of drilling fluids in to the mineral exploration industry. Jason brings a wealth of new knowledge to Mincon which complements the DTH hammer expertise that our customers already know and trust.
Jason's arrival strengthens the existing team, based out of Perth, consisting of Jim Purcell, Allan Ding and Kevin McCombe. All three have a long association with the drilling industry and considerable experience in RC and DTH drilling. Along with the essential support of our logistics and administration specialist, Kelly Marten, we believe the additional coverage should ensure you are always able to contact an experienced Mincon representative to support your drilling needs. Jason can be contacted on +61 (0)438 834 344 or via sales@mincon.com.au.
Further expansion in the Australian market will be driven by Mincon's acquisition of 65% of ABC Products. ABC products have been a very good distributor for Mincon for some years. In keeping with Mincon's continued focus of better improving our service to our customers, we made a decision to consolidate our relationship with ABC Products. This will begin a new chapter in Mincon's growth on the east coast of Australia with one of the drilling industry's most respected drilling supply companies.
This is a very exciting time for Mincon in the eastern states of Australia and we are sure that our customers and those of ABC products will benefit by this new alignment. ABC will continue to carry the extensive range of products it always has done, with the added value of the full range of Mincon products. You can learn more about this acquisition here.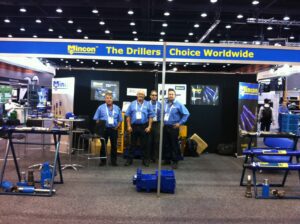 With the expansion of our distribution network in Australia Mincon is pleased to advise that the highly regarded Mincon HDD range is now available from your local Mincon sales team. These tools have been developed in the US and Scandinavia for the express purpose of horizontal directional drilling in hard rock environments. These tools are perfectly suited to trenchless installation of utilities and services access in the traditional construction and civil markets. In addition they are being used in the growing area of mine site services where the cost and disruption of moving existing infrastructure can be alleviated by the use of the Mincon HDD range of hammers and bits.
DRILL 2014 At the recent Australian Drilling Industry Association conference, DRILL 2014, Mincon displayed some of the HDD range and a Mincon HDD specialist was on hand to answer questions. Initial feedback from visitors to our stand was very positive.
All of these changes and improvements have been put in place to drive market share of Mincon products in Australia. We look forward to the next 12 months when we expect to start to reap the rewards of this continued expansion.