With Mincon's reputation as The Driller's Choice, our customers have come to expect the best when using products from our comprehensive range of rock drilling solutions. And with an ethos of continuous improvement, we are always working on making the best even better – an approach has resulted in four decades of innovation in the drilling industry.
The latest innovation that will make a difference at drill sites is our next-generation 4" DTH hammer, the Mincon MP40, which redefines performance with proven speed increases of up to 40%, depending on ground conditions, and fuel consumption improvements of up to 11.5%.
The MP40 is an evolution of our popular 4" DTH hammer range, which previously comprised a number of different models. With the introduction of our new modular design, MP40 creates a family of hammers that use a common internal design while supporting a variety of of 4-inch shanks and drilling configurations. This elegant engineering approach means the MP40 family offers the same benefits across all models: faster penetration, higher efficiency, and a lower cost-per-metre.
There are three variants of the MP40: MP40-TD, MP40-MQ, and MP40-MP. The TD and MQ versions both support the popular TD40 shank, with the MQ variant having the benefit of requiring bits without a footvalve. For drillers who have more demanding applications, the MP variant supports drill bits that use Mincon's own MP heavy duty shank.
As with all Mincon products, the MP40-MQ was tested rigorously during development to ensure that it delivered increased performance and longevity, without compromising efficiency. In testing at an active limestone quarry in Dubai, the MP40-MQ delivered penetration rates of up to 1.1 metres per minute – an increase from 0.79 metres per minute achieved with the site's previous equipment on the same Epiroc D50 drill rig.
In this instance, the MP40-MQ result was able to reliably perform at a higher air pressure (30 bar, vs 24 bar) without compromising reliability. During testing no failures were reported by the customer and performance was maintained even after more than 5,000 metres of drilling.
At a separate independent test at a gold mine in Senegal, the MP40 was pitted against our class-leading Mincon 4HRTD DTH hammer. In this instance the MP40-MQ delivered a speed increased of 12%, with average penetration rates of up to 18 metres per hour in the hard, gold ore-bearing rock.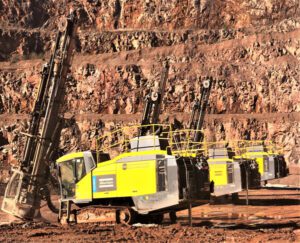 However, this improved performance doesn't come at the expense of fuel consumption. At a quarry in Leicestershire, UK, the MP40-MQ delivered 12% higher penetration rates compared to the Mincon 4HRTD when drilling in extremely abrasive granite rock. Additionally, the MP40-MQ saw an 8% decrease in engine load on the drill rig, which resulted in an 11.5% improvement in fuel consumption.
Despite the harsh drilling conditions at the granite quarry, the internals of the MP40-MQ showed minimal wear after more than 10,000 metres of drilling – resulting in ongoing savings for the customer.
With an increasing focus on emissions, drillers will increasingly look to use equipment and suppliers that will help reduce their carbon footprint, as well as lower costs. With exhaustive testing at sites around the world, Mincon's next-generation tools have been proven to get work done faster while using less fuel and offering higher durability.