In 2016, Mincon Finland was established as the official sales and support office for Mincon customers in the Finnish market. Under the leadership of Jussi Rautiainen and current general manager Sami Eskelin, the business has grown to become the Mincon Group Geotechnical Centre.
In line with its new role in the Mincon Group, Mincon Finland recently relocated to new office premises in the RealPark industrial area, just off the highway 3 arterial road connecting Helsinki and Tampere. This new development is easily accessible from a major route and receives more than 7-million consumers each year – providing maximum exposure for the Mincon brand.
The new Mincon Finland offices are instantly recognisable, thanks to prominent signage and the signature Mincon colour scheme of yellow and blue. Behind the modern, glass-heavy exterior sits 300m2 of office space for the sales and support team – with room for future expansion.
Sami Eskelin, General Manager, Mincon Finland, said:
"Mincon Group has made significant investments in research and development of new products, and it is also investing in the brand. As the Mincon Group Geotechnical Centre, Mincon Finland has renowned experts who can provide unmatched guidance when it comes to advising on the best solutions for geotechnical drilling. This new office space, in a centralised business zone with modern infrastructure, is a reflection of how seriously we are approaching this."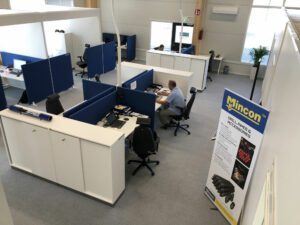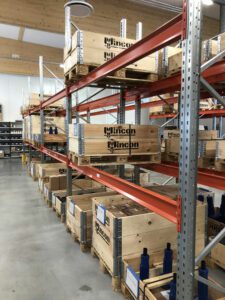 As the Mincon Group Geotechnical Centre, Mincon Finland serves as the knowledge hub for advising on complex geotechnical drilling projects. At the same time, it also serves as a Mincon customer service centre capable of delivering world-class customer service and carrying stock of Mincon's class-leading casing systems, manufactured just 20 minutes away, in Ylöjärvi. These, as well as Mincon DTH hammers and bits, are available at the 550m
2
Mincon Finland warehouse for distribution to European and global markets, for use in work sites where complex geotechnical, construction, waterwell or geothermal drilling takes place.
Along with Mincon Finland, Mincon Group has offices and manufacturing sites in 15 countries, across five continents. The new Mincon Finland offices are located at Areenakatu 7, 37570 Lempäälä, Finland, and can be contacted on +358 40 550 5505.
To find a Mincon office in your region, visit our
contact page
.