Mincon International celebrated their 30th birthday in February 2007 and the celebration was befitting the occasion.  For those that know Mincon, the following should give a better idea of the steps that have brought us to where we are now.  For those that do not, we hope you take the opportunity to get to know us and discover some of the reasons that have made us "The Driller's Choice" for so many.
Mincon International, founded in 1977 to service the underground  metal mines in Ireland with Top Hammer drilling parts has experienced unprecedented growth since their new range of 'Down-the-Hole' Hammers was introduced in 1999.
Since then the company has grown substantially, surpassing expectations year after year with demand for Mincon product ever increasing.
This sustained growth is due to the outstanding success of their Hammers and drill bits in the field and the support that they give to their customers.
Globally, there are numerous makers of DTH Hammers, some are in the 'World Class' league and others offer cheaper less efficient alternatives, often re-engineered copies of established makes.
When Mincon began the development of their new range, the design team were presented the challenge of producing equipment that would take them into the 'World Class' league. The Hammers had to bring distinct benefits to the user, not on purchase price, but in terms of extra drilling speed, ease of maintenance, reliability, long service life and built to exacting quality levels that would, in all, bring savings to the customer.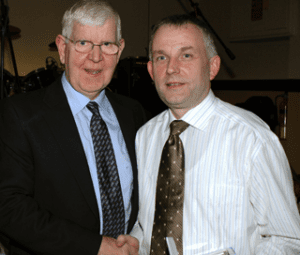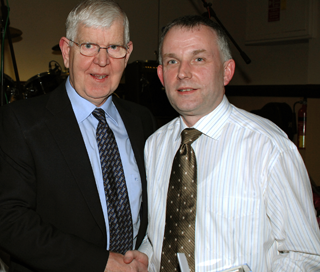 Mincon's Chief Design Director, Joe Purcell, had earlier been closely involved with a former sister company in Australia where he had to produce DTH equipment to meet some pretty demanding requirements for the tough conditions in that market. When it was decided to begin production in Ireland of the new range, Joe used his vast experience to bring about the very latest in DTH technology.
The plant in Shannon was installed with new 'state of the art' machines and importantly in-house heat treatment facilities to enable them to exercise full control over quality. Since then they have regularly had to add extra manufacturing capacity, with new machines and extra working shifts (now 24 hours each day) to cope with the ever growing demand.
As part of the decision to come out best, Mincon also chose to use the highest grade steels and employ special processes to enhance the finished product even if it meant having a higher unitary cost.
In 2004, Percussion Bit & Tool Inc. of Benton, Illinois. USA became part of the Mincon International Group that manufactures a full range of Drill Bits for DTH and Top Hammer drilling applications. This acquisition was an important step in Mincon's development strategy as it enabled them to control the quality of Bits being used with their Hammers and to be able to offer complete DTH packages of enhanced tools to the contractor.
To keep pace with demand and to better service markets outside the US, Mincon recently opened a new DTH Drill Bit plant in Shannon, Ireland. The emphasis again being towards producing a top quality product using the best methods and materials.
Mincon Rockdrills latest venture sees a new manufacturing plant opened in Perth, Western Australia, headed up by John Elsby.  This fully robotised plant is manufacturing industry leading reverse circulation (RC) exploration hammers and bits.  Mincon RC hammers and bits are fast winning support with major drilling contractors due to the exceptional benefits they bring.  Significantly faster penetration rates, elimination of the need for bit shrouds, exceptional performance against large volumes of water and excellent sampling to name just a few.
Mincon's policy has been to work closely, in partnership, with their distributors and end user customers to develop products that suit their needs, backed by the best practical and technical service support. These factors have been key issues in the company's success.
Sales and technical support operations have been set up in key markets to develop and maintain distributors of Mincon products.  Canadian operations have two locations headed up by Dave Browne.  Mincon Mining Equipment's main operations are in Vancouver, British Columbia where they supply hydraulic and pneumatic Top Hammers and chain feed systems for underground mining applications as well as providing refurbishment facilities for drilling Jumbo's.  A satellite office is also located in Sudbury, Ontario.
The US operations, Mincon Inc., based in Roanoke, Virginia are led by Tom Purcell.  This facility warehouses all DTH hammer product required for the US market and a full service facility is available to take care of any issues not resolved in the field.
The home market in Ireland is covered by Jim Purcell.  Jim is also heavily involved in product testing and R&D.  Sales outside these markets are handled through their UK based office at Hebden Bridge, West Yorkshire led by Steven Beasley and John Neenan.
All of these operations throughout the world maintain close communications with the head office in Ireland and the CEO of the company, Kevin Barry and the Chairman and Founder, Patrick Purcell.
The DTH Hammers and Bits are used in a wide variety of applications, including, open pit mining, quarrying, construction, exploratory, pit to pit, water-well, geo-thermal and shallow oil and gas drilling.
In each application the Mincon DTH Hammers and Bits are bringing the previously mentioned benefits and not least, providing good, clean, straight and accurately aligned bore holes for their specific uses. Such factors are extremely important to mining and quarrying contractors for safer blasting and to well drilling companies where linings have to be installed or where a specific alignment has to be maintained.
The DTH Hammers all have easily adjusted choke systems to allow increased air low in soft ground or where there is heavy water to lift. The larger models also have reversible Wear-Sleeves for extended life for abrasive rocks. Models are available to take a choice of Drill Bit shank.
Drill Bits are offered with a choice of head design, options in carbide shape and alternative grades to precisely match the drilling conditions.
The products have really made a big impact on the world stage with many contractors now preferring to go for the Mincon option. Professional mining companies operating in USA, South Africa, Australia and Chile have moved to Mincon, as have large sectors of the Northern European Geo-Thermal drillers and blasting contractors in the UK and Ireland. Water well drilling companies in Spain, Italy, France, Portugal and Ireland have experienced benefits that have led them to choose the Mincon route and big quarry groups throughout the continent find that they too have been able to improve their productivity and minimise their operating cost, even though the initial outlay may be a little higher.
Mincon looks to its future with confidence in the knowledge that what they have done, has been done well and provides a sound base from which to continue their ambitious programme of growth using the sam
e basic principles that has brought them to where they are today, in the 'World Class' league.