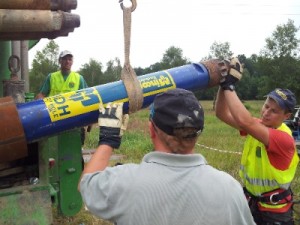 The quarrying industry in Poland eclipsed the Irish market in 2012, and is now three times the size. Due to a great number of road schemes being planned, the aggregates demand in Poland is set to rise by 20% within the next few years. This is due partly to the rapidly increasing construction of rail routes and public roads. Currently only 4% of the aggregates used in Poland are imported leading to strong domestic demand.
Poland is currently the largest producer of coal in The European Union, supplying the EU market with approximately 16 million tonnes of hard coal per annum. Poland's silver, zinc and copper production have shown strong increases over the last number of years. The state owned copper producer KGHM nearly tripled its net profit in the first quarter of 2011 beating expectations thanks to large increases in metal prices.
Mincon hammers and bits are leading the way in the Polish market as the Polish Drillers' Choice. Mincon products are used by 90% of Polish Quarries. The Polish quarrying industry currently employs 176,600 people contributing greatly to Polish GDP.
Massive benefits have been brought to Mincon's Polish customers when they have switched to the Mincon Hammer MP35 and 100mm ballistic bit. With drilling speeds in solid rock of 1,5meters per minute, drillers will see fuel consumption going down to 15L/H while running at 23Bar due to the extremely efficient use of available air in the MP35 hammer. This gives Mincon customers an amazing saving of over 15000zł (3600 euro) per month on fuel alone while enjoying amazing increases in production.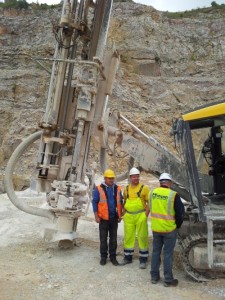 Statistics show that the Polish aggregates industry is set to continue its strong growth. With demand for aggregates in the first six months of 2011 reaching 110 million tonnes Poland is expected to be among one of the largest aggregate producers in Europe by 2013. Mincon is at the forefront of this growth by providing quality tools that are trusted by the Polish market.
Mincon has seen strong growth in the Polish Water Well Industry in recent years as Polish Drillers realize the benefits of using Mincon tools.
Water wells typically range from 3 to 18 meters (9.8–59 ft.) deep. In some areas water wells may need to be drilled much deeper, up to 900 meters (3,000 ft.). With access to clean drinking water being such a key feature of any building project it is important that Drillers use high quality tools that they can trust. Mincon hammers and bits have proven to offer the best performance, reliability and longevity to Polish drilling contractors. Mincon Hammers and bits can be found on many diverse drilling projects in Poland.
Our Polish customers work with a diverse client base ranging from the Polish Government, City Governments, Quarries, Coal Companies to private individuals. Mincon has establishes a strong reputation in Poland as the Drillers' Choice.