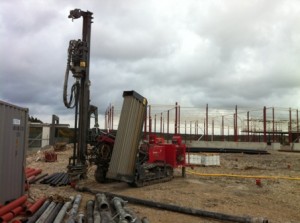 The Nordic market currently stands at 55,000 wells being drilled per year. Of these 44,000 are shallow geothermal wells. The market is served by approximately 380 drilling companies who need the right equipment to maximise efficiency when drilling through hard crystalline bedrock.
Shallow geothermal drilling in Sweden is well established. Historically some 100 drilling companies over several decades had an annual production rate of 5000 water wells. In the mid-eighties high oil prices combined with several industrial innovations, led to widespread adoption of ground source heat pumps. The drilling companies could use the same equipment and tools as for water wells, making drilling for energy an easy add on service.
2006 was the peak for this industry with 40 000 wells being drilled. Now there are in excess of 400,000 energy plants in Sweden based on shallow geothermal. Just about every Swedish citizen has a connection to what is known as "rock energy". Mincon hammers have played an important part in this success.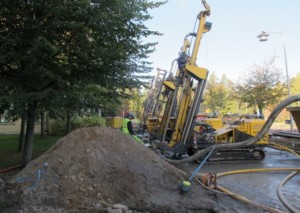 Shallow geothermal drilling in Finland is growing. Last year Finnish driller's completed 19,000 wells of which 3000 were water wells.
Finland has a very good future for shallow geothermal, it still has 200,000 private houses using oil for heating and new energy plants are being developed. This represents a sizeable potential market for Finnish drillers.
Norway is a smaller market for shallow geothermal and water wells. Norwegian drillers completed 6000 wells last year of which 3000 were water wells.
Most of the shallow geothermal wells drilled in Norway are for bigger energy plants.
Mincon DTH hammers now command an 80% share of the Nordic market. John Gøytil the Marketing and Product Manager for Mincon in the Nordic market stated that "We are very pleased with the positive feedback we have received from drillers in our market. For us the Mincon product truly is The Drillers Choice and a rocket both down the hole, and also in terms of sales figures."