Mincon is proud to be involved in establishing the initial lifeline to the thirty-three miners trapped 2,300 feet (701 meters) below ground in the San Jose gold and copper mine outside Copiapo, Chile.  A hole 5-3/8″ (136mm) in diameter was drilled through on Monday August 23rd using the Mincon MX5053 reverse circulation hammer and drill bits.  The lifeline hole establishes an all important communication link and a conduit to pass food, water and medicines to the trapped miners for their long wait underground until they are finally brought to the surface.  A number of holes had been drilled to try an locate the trapped miners and finally Terraservice broke through with the Mincon MX5053 hammer. When the hammer was retrieved from the bore hole, a note was attached to the hammers drill bit that told that the 33 miners were alive and well in a cramped, 530-square-foot (50-square-meter) shelter. They survived by sharing tiny portions of canned fish stored in the shelter room.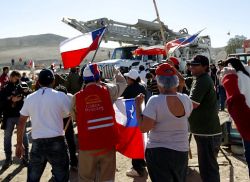 A second hole was also drilled by Adviser Drilling using the Mincon MX5053 hammer. Drillers Supply S.A. in Antofagasta, Chile distributes and services Mincon reverse circulation hammers and manufactured the drill pipe used on the rescue. The hammer and drill bit that broke through was requested by the Chilean Government and is being put on display in the Presidential Palace, "La Mondena".
Seventeen days after the Mine collapse the breakthrough that brought news from the miners was read on site by the Chilean President, Sebastián Piñera, saying "Estamos bien en el refugio los 33″, all 33 are well in the refuge.  The President said "it was a message of joy".  A second note, a letter from the oldest miner to his wife was also retrieved.  Communications have been set up with the miners and food and water is being sent down the two holes that were drilled.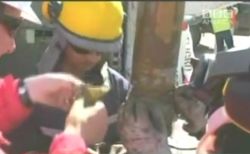 As rescue efforts continue, large boring equipment is being shipped in from Australia and the United States to drill a rescue shaft to free the miners.  Initial estimates put the completion of this rescue shaft at three to four months.  Our thoughts and prayers are with the miners and their families to maintain the strength and courage to sustain them through this trying ordeal.